Linking Up With Golf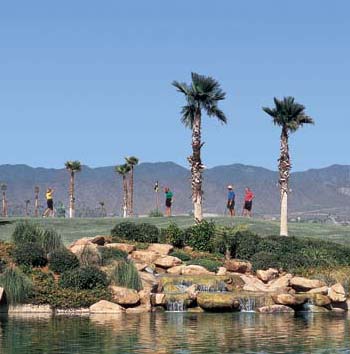 The Tuscany Falls and Eagle's Nest golf courses wind throughout PebbleCreek, amid desert landscapes and mountain horizons, for a total of 54 holes of golf within the development.

The 18-hole Eagle's Nest course, fun to play, features seven lakes and views of the White Tank Mountains. 

Tuscany Falls East and West courses, designed by golf-course architect Dick Bailey, showcases dramatic mounding, rolling fairways, and strategically placed bunkers over 36 holes. The signature hole is #13 on the East course, where golfers must carry more than 100 yards over water from the tee box to the green.  On the West course, the signature hole is #3 with beautiful views of the White Tank Mountains in the background.

Clubhouses at both courses provide inviting places to enjoy pre-game or post-game meals and libations. Both also have fully-stocked pro shops, including the latest fashion in golf wear:
Eagle's Nest Golf Shop: 623-935-6761
3645 Clubhouse Drive, Goodyear, AZ 85395
Eagle's Nest Golf Shop hours:  6 a.m. - 3 p.m.

Tuscany Falls Golf Shop: 623-935-6757
16262 Clubhouse Drive, Goodyear, AZ 85395
Tuscany Falls Golf Shop hours:  6 a.m. to 3 p.m

Practice ranges are located east of each clubhouse. Visit the Fees page for information on fees.  Purchase tokens at both pro shops. Range balls and baskets must stay in the range area. The ranges close periodically for maintenance and mowing; check the pro shops for posted signs or schedules.
Tee times and course schedules determine when you can play. View this month's calendar for each course, and learn how to use the online Chelsea Points Reservation System to reserve your tee times.

Course maintenance sometimes requires temporarily closing portions of the courses. Stay informed about the current status of maintenance schedules and activities.

Rules and policies governing golf on PC courses cover specific local course rules, practice-range rules, and the PC HOA's golf policies, including golf carts, disabled access, dress code, pace of play, guest players, kids rules, and more. 

Golf Committee members are charged with enhancing golfing satisfaction and enjoyment through long-term recommendations and solutions. The 14-member group directs efforts regarding the playability, condition, and maintenance of the courses and related facilities, paths, and practice ranges. Visitors are welcome at the monthly meetings.

Golf clubs and leagues, approved by PC HOA, offer group fun and competition for all levels of golfers.
 If you are a registered PebbleCreek homeowner, Log In here for more information.