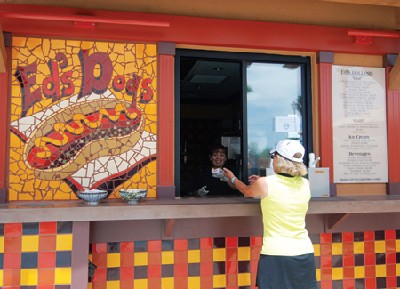 Ed's Dogs is a walk-up snack bar, located at the northwest corner of Tuscany Falls outdoor swimming pool.  You may access it from inside or outside the pool gates.

Light refreshments include burgers, hot dogs, soft drinks, coffee, beer, snacks, candy, and other treats.

Call in your order ahead, as you finish your round of golf:   623-935-6749

Hours:
Sunday - Saturday  9 a.m. – 5 p.m.

Ed's Dogs Menu - under revision
For takeout, call 623-935-6749
Please note that we are closed on Thanksgiving day, Nov. 25.  We will have normal business hours on Friday, Nov. 26.