Eagle's Nest at PebbleCreek has been earning rave reviews since the day it opened. The 18-hole course is fun to play and features seven lakes and views of the commanding White Tank Mountains. Course information, found on the scorecard for Eagle's Nest, includes course layouts, hole distances, handicap and par information, and local course rules.

The Eagle's Nest Restaurant and Lounge provide inviting places to enjoy pre-game or post-game meals and libations. 
There is also a fully-stocked golf shop, including the latest fashion in golf wear: 
Eagle's Nest Golf Shop: 623-935-6761
3645 Clubhouse Drive, Goodyear, AZ  85395
The Golf Shop is open January through May and October through December: Daily 6 a.m. to 5 p.m.; June / July / August: Daily 6 a.m. to 3 p.m.; September: Daily 6 a.m. - 4 p.m.
A practice range is located east of the clubhouse. Purchase tokens at the golf shop. Range balls and baskets must stay in the range area. The ranges close periodically for maintenance and mowing; check the golf shop for posted signs or schedules.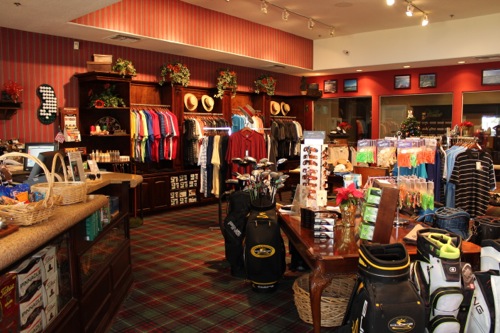 Private lessons are available for a fee from PC's golf professionals. Call Eagle's Nest Golf Pro Ronnie Decker at 623-935-6761 for details.

Tee times and course schedules determine when you can play. View this month's calendar for each course, and learn how to use the online Chelsea Points Reservation System to reserve your tee times. 

Course maintenance sometimes requires temporarily closing portions of the courses. Stay informed about the current status of maintenance schedules and activities. 

Fees for golfing may be customized to meet each golfer's anticipated frequency of use, ranging from pay-per-play to annual memberships, including discounts for homeowners. 

Rules and policies governing golf on PC courses cover specific local course rules, practice-range rules, and the PC HOA's golf policies, including golf carts, disabled access, dress code, pace of play, guest players, kids rules, and more.